Page 12 - FLN_Product_Catalog
P. 12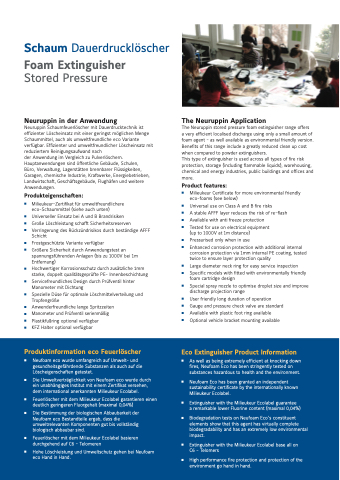 Schaum Dauerdrucklöscher Foam Extinguisher
Stored Pressure
Neuruppin in der Anwendung
Neuruppin Schaumfeuerlöscher mit Dauerdrucktechnik ist effizienter Löscheinsatz mit einer geringst möglichen Menge Schaummittel, auch als umweltfreundliche eco Variante verfügbar. Effizienter und umweltfreundlicher Löscheinsatz mit reduziertem Reinigungsaufwand nach
der Anwendung im Vergleich zu Pulverlöschern. Hauptanwendungen sind öffentliche Gebäude, Schulen, Büro, Verwaltung, Lagerstätten brennbarer Flüssigkeiten, Garagen, chemische Industrie, Kraftwerke, Energiebetrieben, Landwirtschaft, Geschäftsgebäude, Flughäfen und weitere Anwendungen.
Produkteigenschaften:
n Milieukeur-Zertifikat für umweltfreundlichere eco-Schaummittel (siehe auch unten)
n Universeller Einsatz bei A und B Brandrisiken
n Große Löschleistung schafft Sicherheitsreserven
n Verringerung des Rückzündrisikos durch beständige AFFF
Schicht
n Frostgeschützte Variante verfügbar
n Größere Sicherheit durch Anwendungstest an
spannungsführenden Anlagen (bis zu 1000V bei 1m
Entfernung)
n Hochwertiger Korrosionsschutz durch zusätzliche 1mm
starke, doppelt qualitätsgeprüfte PE- Innenbeschichtung n Servicefreundliches Design durch Prüfventil hinter
Manometer mit Dichtung
n Spezielle Düse für optimale Löschmittelverteilung und
Tropfengröße
n Anwenderfreundliche lange Spritzzeiten n Manometer und Prüfventil serienmäßig
n Plastikfußring optional verfügbar
n KFZ Halter optional verfügbar
The Neuruppin Application
The Neuruppin stored pressure foam extinguisher range offers
a very efficient localised discharge using only a small amount of foam agent - as well available as environmental friendly version. Benefits of this range include a greatly reduced clean up cost when compared to powder extinguishers.
This type of extinguisher is used across all types of fire risk protection, storage (including flammable liquids), warehousing, chemical and energy industries, public buildings and offices and more.
Product features:
n Milieukeur Certificate for more environmental friendly eco-foams (see below)
n Universal use on Class A and B fire risks
n A stable AFFF layer reduces the risk of re-flash
n Available with anti freeze protection
n Tested for use on electrical equipment (up to 1000V at 1m distance)
n Pressurised only when in use
n Enhanced corrosion protection with additional internal corrosion protection via 1mm internal PE coating, tested twice to ensure layer protection quality
n Large diameter neck ring for easy service inspection
n Specific models with fitted with environmentally friendly
foam cartridge design
n Special spray nozzle to optimise droplet size and improve discharge projection range
n User friendly long duration of operation
n Gauge and pressure check valve are standard n Available with plastic foot ring available
n Optional vehicle bracket mounting available
 Produktinformation eco Feuerlöscher
n Neufoam eco wurde umfangreich auf Umwelt- und gesundheitsgefährdende Substanzen als auch auf die Löscheigenschaften getestet.
n Die Umweltverträglichkeit von Neufoam eco wurde durch ein unabhängiges Institut mit einem Zertifikat versehen, dem international anerkannten Milieukeur Ecolabel.
n Feuerlöscher mit dem Milieukeur Ecolabel garantieren einen deutlich geringeren Fluorgehalt (maximal 0,04%)
n Die Bestimmung der biologischen Abbaubarkeit der Neufoam eco Bestandteile ergab, dass die umweltrelevanten Komponenten gut bis vollständig biologisch abbaubar sind.
n Feuerlöscher mit dem Milieukeur Ecolabel basieren durchgehend auf C6 - Telomeren
n Hohe Löschleistung und Umweltschutz gehen bei Neufoam eco Hand in Hand.
12
Eco Extinguisher Product Information
As well as being extremely efficient at knocking down fires, Neufoam Eco has been stringently tested on substances hazardous to health and the environment.
n
n Neufoam Eco has been granted an independent sustainability certificate by the internationally known Milieukeur Ecolabel.
n Extinguisher with the Milieukeur Ecolabel guarantee
a remarkable lower Fluorine content (maximal 0,04%)
n Biodegradation tests on Neufoam Eco's constituent elements show that this agent has virtually complete biodegradability and has an extremely low environmental impact.
n
Extinguisher with the Milieukeur Ecolabel base all on C6 - Telomers
n High performance fire protection and protection of the environment go hand in hand.