Products
// Catalogue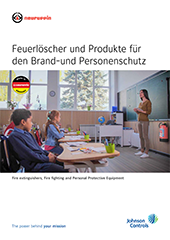 Browse
---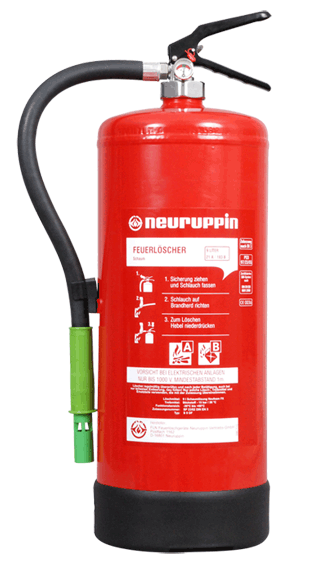 S 9 DF-1
The Neuruppin stored pressure foam extinguisher range offers a very efficient localised discharge using only a small amount of foam agent - as well available as environmentally low-impact version.
Benefits of this range include a greatly reduced clean up cost when compared to powder extinguishers.
This type of extinguisher is used across all types of fire risk protection, storage (including flammable liquids), warehousing (also for flammable liquids), the chemical industry, energy industries, public facilities and office buildings.
environmentally low-impact
Universal use on Class A and B fire risks

A stable AFFF layer reduces the risk of re-flash

Can be used from -30°C to + 60°C

Tested for use on electrical equipment, [up to 1000V at 1 metre distance]

Enhanced corrosion protection with additional internal corrosion protection via 1 mm internal PE coating, tested twice to ensure layer protection quality

Large diameter neck ring for easy service inspection

Special spray nozzle to optimise droplet size and improve discharge projection range

User friendly long duration of operation

Gauge and pressure check valve are standard

Optional plastic foot ring available available

Optional vehicle bracket mounting available
Documents
Data Sheet > PDF Translation: NL, NO DE
Optional Equipment
Flexible plastic hoods:
907735: Plastic coating 9kg / l
Floor Stands:
607310: Floor stand for a fire extinguisher 3,6,9,12 kg / l, red lacquered
0253255: Floor stand for a fire extinguisher 3,6,9,12 kg / l, easy to carry, white lacquered
0253256: Floor stand for a fire extinguisher 3,6,9,12 kg / l, easy to carry, electro galvanized
607311: Floor stand for two fire extinguishers 3,6,9,12 kg / l, red lacquered
Sheet Metal Protection Cabinets:
907480: Sheet metal cabinet, 2 fire extinguishers up to 12 kg, door can be sealed with rotating handle, with slanting roof; Red Outside dimensions: H755 x B600 x T220 mm
907470: Brass cabinet HL070, red, with sloping roof, without back wall, door with rotary handle and sealable; Outside dimensions: H730 x B370 x T240 mm
Plastic protective boxes:
907697: Protective cover crystal, gray base, transparent cover, panic closure, outside dimensions: H875 x B355 x T240
907695: Protective cover crystal, gray base, transparent cover, panic closure, outside dimensions: H715 x B310 x T230
907754: Rimbox 155, red lid with viewing window, robust design; Outside dimensions: H674 x B313 x T255
607100: Plastic box 9 / 12kg HL040, red, with neuruppin embossing; Outside dimensions: H800 x B335 x T205
607060: Plastic box 6/9 kg, base gray, transparent cover, with neuruppin embossing, outer dimensions: H645 x B320 x T220
Stand Ring:
201149: Plastic foot ring diameter 190 black
Vehicle holder:
0253814: Vehicle holder with storage basket
200082: Vehicle holder without support √ł190
Specifications
Charging (I): 9
Extinguishing Agent: Neufoam FO
Rating: 27A 183B
Temperature (°C): -30 / +60
Weight (kg): 15.3
Width (mm): 240
Height (mm): 530
Discharge Time(s): 80
Effective range (m): 5
Approvals: CE*, EN3, WM**